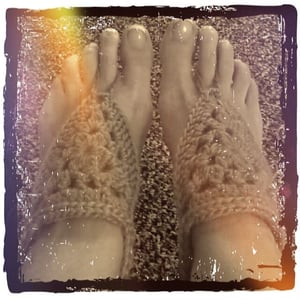 $

10.00
with temps on the rise our toes are ready to come out of hibernation!
our "naked feet" sandals are the perfect little accessory to dress them up while still enjoying the warm spring & summer air!
available in:
peacock
vibrant magenta
steel
red
black
espresso
olive
chartreuse
turquoise
lime
hot pink
plum
grey
soft pink
robin's egg
mellow yellow
***colors can be seen at this link: http://bradeehomemade.storenvy.com/products/327380-luxe-naked-feet-sandals
they tie in the back & fit most teen/womens feet
they can be worn barefoot, or with flip flops
are 100% washable & 110% adorable!